Dear friend,
It might be spooky season, but what we've accomplished over the last ten years for wildlife is nothing to boo about. 👻
In fact, thanks to your support, we've done some pretty amazing things together for animals around the world.
Some highlights include:
Starting our 'Sea Change' campaign to save marine animals from entanglement and death in the 640,000 tonnes of abandoned nets, lines, and ropes left in our oceans annually. Moving the Canada government to join the Ghost Gear Initiative, committing to investing in cleaner oceans. 🐬
Launching our 'Wildlife. Not Entertainers' campaign to expose the horrors of wild animals being used for entertainment and moving some of the biggest travel companies in the world including Trip Advisor, Expedia, and Booking.com to stop selling tickets to these cruel attractions. 🐅
Supporting elephant venues in Thailand to become inspiring elephant-friendly, observation-only tourist attractions. 🐘
All these achievements were only possible thanks to your compassion and support. Thank you.
Discover all of our successes for wildlife over the last 10 years:

Help us put animal agriculture on the agenda!
We all know that intensive animal agriculture is a major contributor to greenhouse gas (GHG) emissions, so why is our government continuing to ignore the proverbial "cow in the room"?
COP27, the biggest global climate conference, is happening next month so now is the time to urge your MP to take action.
Send an e-letter to your Member of Parliament (MP) now urging them to acknowledge the impacts of animal agriculture on climate change.
If you have already done so, please share with friends and family. The more people that speak up, the harder it will be to ignore us.

It's time to plan meatless better...
As a savvy animal lover, you know that eating less meat is good for you and the planet (and the animals of course)... but it's not always easy to add one more thing to your weekly plans...
Don't worry, we got you.
We've developed a quick and easy way for you to get a custom meatless recipe plan directly to your inbox! All you have to do is take our fun quiz:
Each day you cut your meat consumption, you reduce your meat-related carbon footprint by almost 4 kgs! Every contribution, no matter how small, adds up to real impact.
Together, we can make vital changes to our carbon emissions and get Canada back on track to achieve our climate targets.
We know you can do it! Plan meatless better now.

From sorrow to sanctuary: Delhi the elephant arrives at her new forever home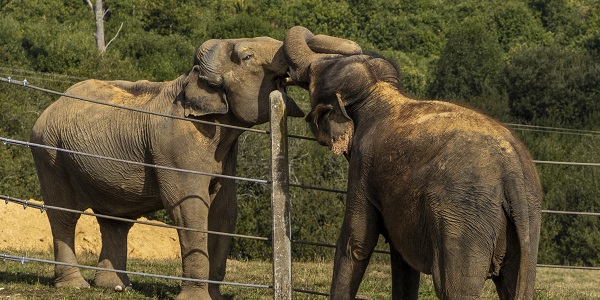 Delhi the elephant spent 36 years of her life captive in a zoo, and the past 4 of those years were spent in solitude. Elephants are highly social herd animals and form strong bonds with other elephants.
Fortunately, the zoo recognized this and agreed to send Delhi off to Elephant Haven, Europe's first dedicated elephant sanctuary in south-west France, where she will spend her time with the other female elephant Gandhi, who has also lived most of her life in a zoo.
Upon meeting, Delhi and Gandhi quickly began to communicate with each other, both by sound and by gently touching each other's trunks.
This marked the start of a beautiful friendship.

Inadequate regulations are failing captive wild animals in Ontario
After visiting 11 zoos, wildlife displays, and zoo-type exhibits across Ontario, our experts released the report "Nothing new at the zoo", highlighting how current provincial regulations are failing to protect thousands of captive wild animals.
Our experts also revealed how roadside zoos are failing to meet even the basic inadequate provincial standards that currently exist, leaving animals in degrading and heartbreaking conditions.
Social animals like monkeys are being housed all alone
Unsafe enclosures are putting zoo staff, visitors and surrounding communities at risk
Animals are being housed in small, barren enclosures with very little to no enrichment
And more...
They deserve better.

Over the last year, we have partnered with Willfora, to offer our supporters a chance to write their Wills online for FREE. Last month we hosted a webinar to discuss the importance of having a Will, the options you have when writing your Will, along with an online Will writing demo. You can watch the webinar today or reach out to Tiffany Oliveira if you have any questions about Willfora or leaving a gift in your Will to World Animal Protection.